Hit your target with the ideal wedge that incorporates forgiveness, exceptional turf interaction and controllability into your game.
With a wider sole center and narrower toe and heel, this easy-to-open clubhead can be used from any lie and provides exceptional turf interaction.
The top of the blade and toe side are thick, achieving proper length from hosel to CG and excellent directional stability.
The CG is at just the right height, and combined with a W herringbone milled clubface, allows for exceptional spin.
The 0 wedge is available in five loft options that smoothly segue into other irons.
ANGLE VIEW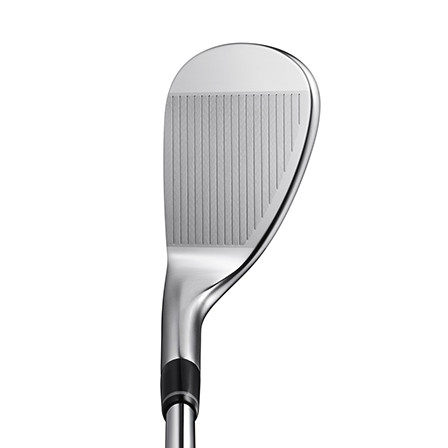 DESIGN

SPEC
Shaft Specs

48

50

52

56

58

Loft angle/bounce angle(°)

48/4.0

50/8.0

52/8.0

56/10.0

58/11.0

Lie angle(°)

63.5

Face progression(mm)

5.0

5.0

5.5

6.5

6.5

Length(inch)

FOR WEDGE CB

35.5

FOR WEDGE ST

35.25

MODUS3 120 (S)

35

MODUS3 105 (S)

35

N.S.PRO 950GH neo(S)※

35.25

N.S.PRO 950GH neo(R)※

35.25

Total weight(g)

FOR WEDGE CB

412

FOR WEDGE ST

448

MODUS3 120 (S)

455

MODUS3 105 (S)

448

N.S.PRO 950GH neo(S)※

446

N.S.PRO 950GH neo(R)※

443

Balance

FOR WEDGE CB

D-0.5

FOR WEDGE ST

D-1

MODUS3 120 (S)

D-1

MODUS3 105 (S)

D-1

N.S.PRO 950GH neo(S)※

D-1

N.S.PRO 950GH neo(R)※

D-1

Shaft weight(g)

FOR WEDGE CB

60

FOR WEDGE ST

96

MODUS3 120 (S)

102

MODUS3 105 (S)

96

N.S.PRO 950GH neo(S)※

94

N.S.PRO 950GH neo(R)※

90

Shaft torque(°)

FOR WEDGE CB

2.8

FOR WEDGE ST

1.6

MODUS3 120 (S)

1.7

MODUS3 105 (S)

1.7

N.S.PRO 950GH neo(S)※

1.7

N.S.PRO 950GH neo(R)※

1.9

Shaft KP

FOR WEDGE CB

M

FOR WEDGE ST

M

MODUS3 120 (S)

MH

MODUS3 105 (S)

H

N.S.PRO 950GH neo(S)※

M

N.S.PRO 950GH neo(R)※

M

Grip

Weight: 50.0, Diameter:60, Code:None, Back line:None

Materials

Body: Soft iron (S25C)

Manufacturing process

Body: Forged