Surprisingly fast.
The delicate 4-point concentrated face created a surprising initial velocity.
Surprisingly initial velocity, attack with high draw
Solid feel and high trajectory.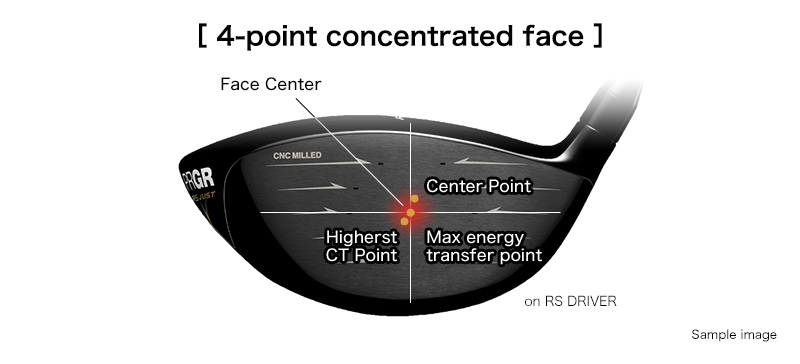 Points are face center, COG point, maximum deflection point, maximum CT point. RS Just concentrated these four points precisely on the face.
Face deflection increased approximately 23% at center hits. ※
If the hitting area and the maximum output area overlap exactly, the initial velocity of the ball will increase, and the flight distance will inevitably increase.
A surprising initial velocity that exceeded the high initial velocity appeared.
※ PRGR research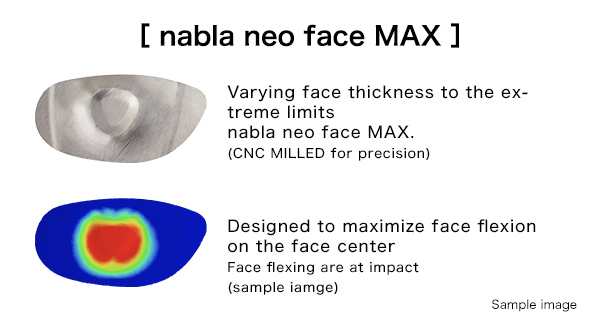 RS JUST, through nabla neo face MAX,
completed a 4-point concentrated face, creating a surprising initial velocity.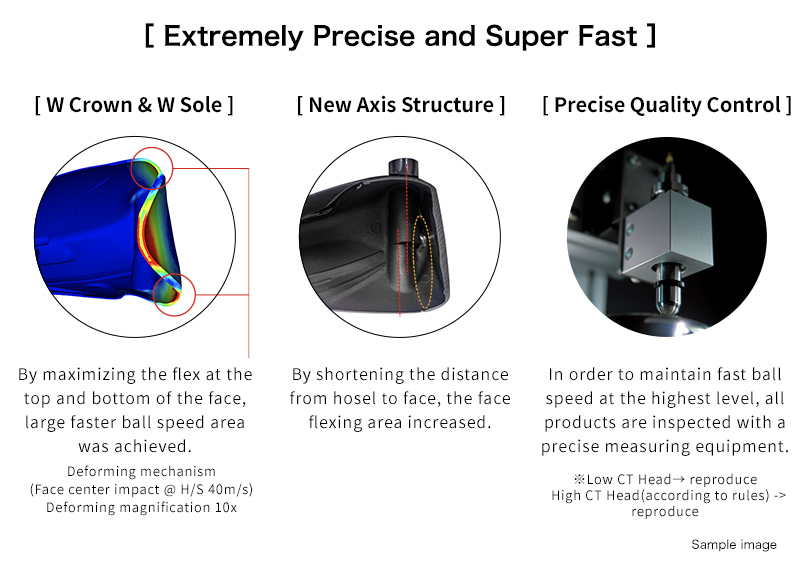 The W crown & W sole and new shaft axis structure increase the deflection area and expand the high initial velocity area.
The uncompromising pursuit of high precision creates a new high initial velocity.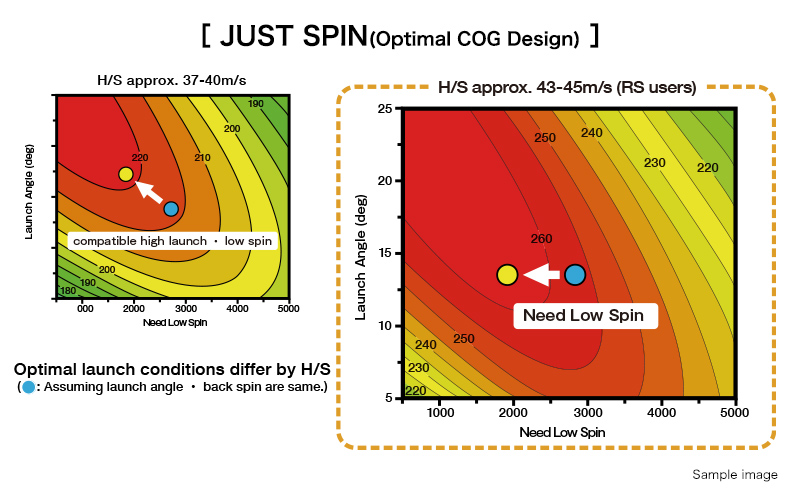 The relationship between the initial velocity and the amount of spin has become clear as a result of tons of real swing data.
As displayed in the figure, golfers with ball speed of 60m/s or higher (H/S 40m/s and higher) do not increase distance even though they increase launch angle, but can hit farther by slightly reducing spin rate.
RS Just lowers the center of gravity of the head and reduces the amount of spin. Increases distance even with a ball flight.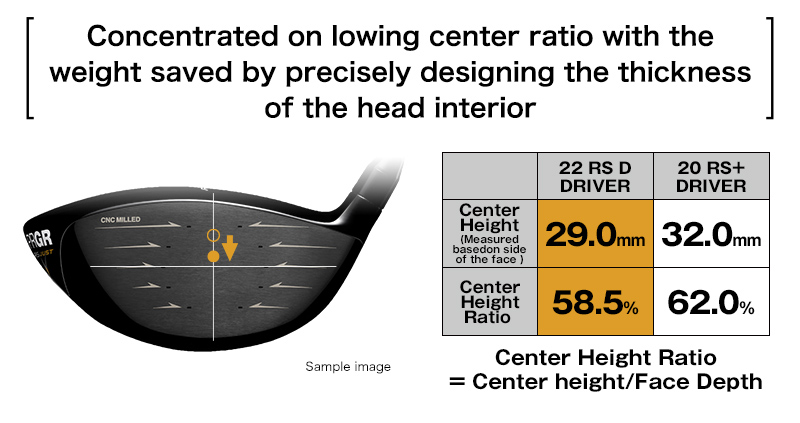 Repositioned the saved weight to lower COG.
Lowered spin rate to the perfection in order to achieve penetrating ball flight and long distance.

Softer grip section so that the shaft bend throughout with nice feel.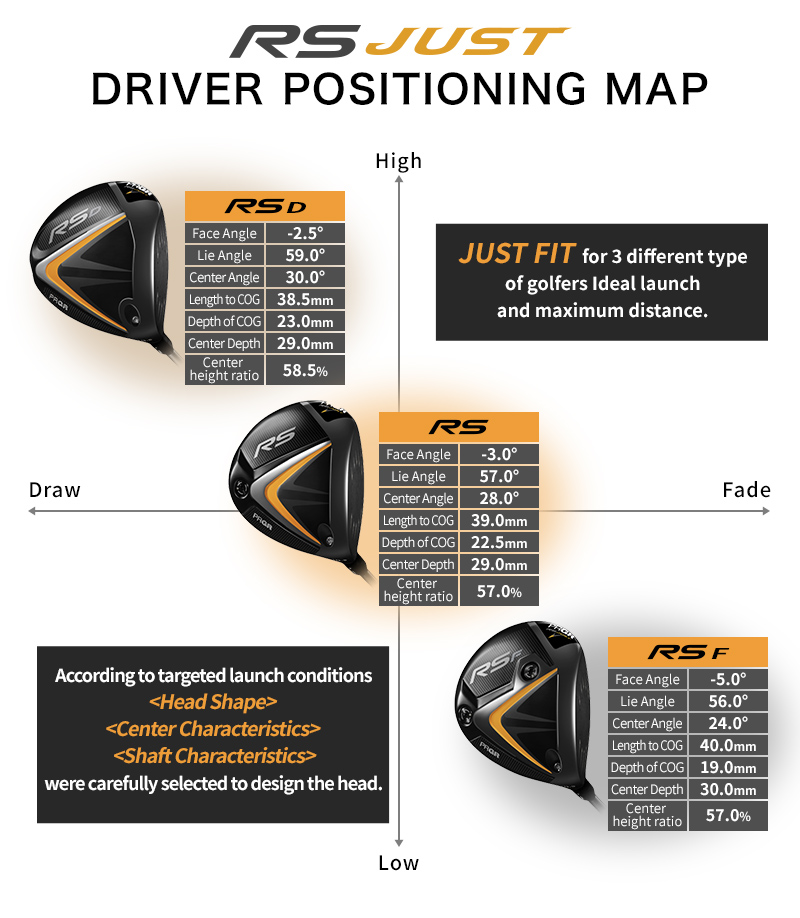 Equipped with ballistic control system "Bacosy".
Equipped with ballistic control system "Bacosy".
Ball flight control is possible with a variable loft mechanism.
If you change the weight, you can change the club balance.
Loft variable: Adjustable by -1 degree from the head display loft
Balance adjustment: Adjustable by installing an optional weight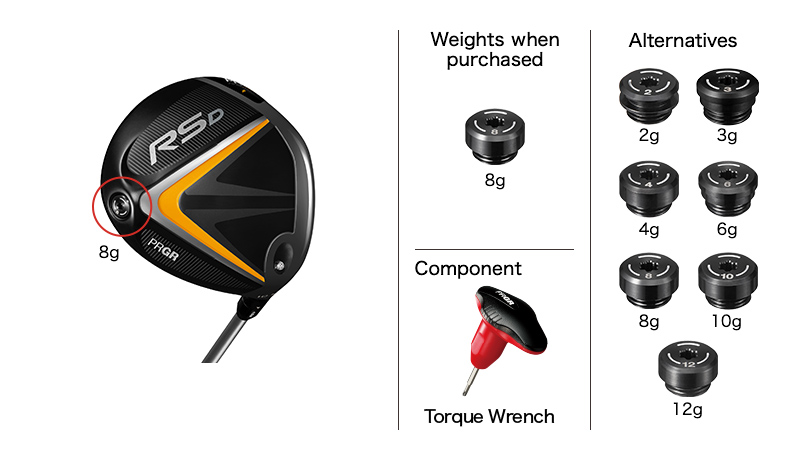 Detach the shaft and head and reposition the shaft by turning it.
A setting where the loft angle becomes minus 1 degree and the launch angle becomes low.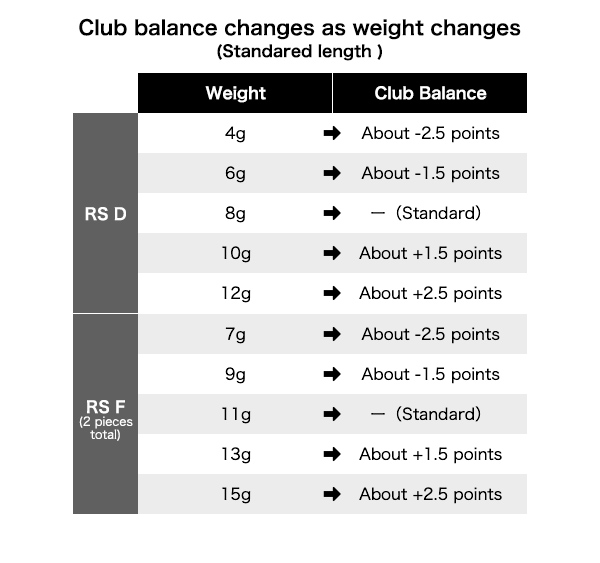 SPEC
<Made in JAPAN><Made in CHINA>
*Conforms to SLE rules
*With an original head cover (made in CHINA), a special wrench.
*Club length: determined by JGGA measurement.